Yesterday I reported on dark money spent on Arizona's elections, notably the money that flowed into the 2014 Governor race. Today you can read about Guv Doozey's sucking up to the Kochtopus: AZBlueMeanie has that story.

Fitz weighs in with his cartoon.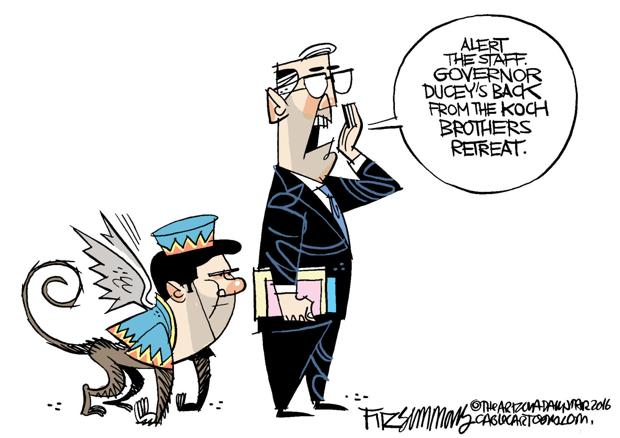 Interestingly, quoting from BuzzFeed, Blue Meanie observes that the list of Koch Kandidates does not include Trump.
None of the presidential candidates attended this weekend's gathering, but donors got a refresher on their public statements on certain policies, including "fiscal responsibility, reducing barriers to opportunity, and keeping America safe," during the briefing, according to a schedule provided to donors.
No candidate aligns perfectly with the Koch network's principles, but five of them meet enough of the criteria: Ted Cruz, Marco Rubio, Rand Paul, Carly Fiorina, and Jeb Bush.
Unsurprisingly, Trump does not.
The billionaire has not only frustrated donors with his rise in polls at the expense of other candidates, but also with his quick change in policy positions based on his audience. ...