From Steve Benen (MSNBC/MaddowBlog)

The obvious problem for Rubio is that he identified one of the potent lines of attack against him – he's an overly scripted, unprepared rookie who can't think on his feet and can't say anything beyond the memorized talking points some handler told him to repeat – and then proved those criticisms true.
It was as if Chris Christie put a rake on the stage, only to have Rubio step on it – four times.
Speaking of Christie: The Andy Borowitz Report
NEW HAMPSHIRE (Satire from The Borowitz Report)—In a stunning announcement on the eve of the New Hampshire primary, New Jersey Governor Chris Christie said that he was dropping out of the Presidential race to focus his energies on tormenting Florida Senator Marco Rubio full-time.
"At the end of the day, running for President was interfering with what I really love, which is making Marco Rubio's life a living hell," he said. "Now I can get up every morning and spend all day just doing that."
Read more from Andy's report here.
Fitzsimmons: GOP discovers Rubio's channeling of Dan Quayle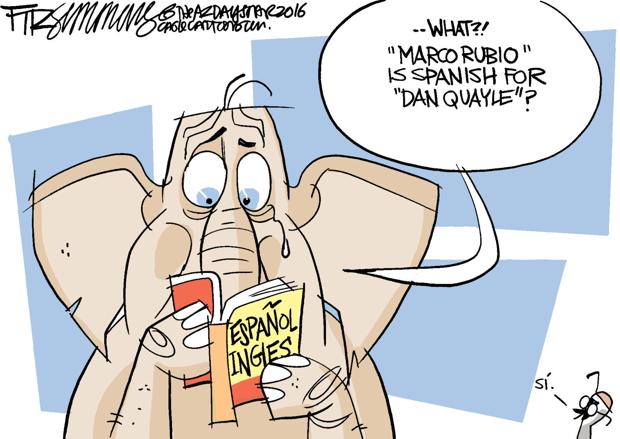 We'll find out today if any of the bad press on Rubio's lousy performance made a difference.