Trump has found the enemy and he is the free press. The enemy is those journalists who died covering the war on terror. The enemy is those of the White House press corps who ask Trump to justify his false "facts." The enemy is those investigative journalists who expose corruption. The enemy is those journalists who speak out in defense of our democracy. Here is Daily Kos' story on Trump's declaration of war in It Begins.
Until today, media reports Himself didn't like were "fake news." Journalists who dared report on him, by such heinous methods as quoting his words and pointing out objectively untrue statements, were "dishonest."

A few minutes ago, Himself upped the ante.

The FAKE NEWS media (failing @nytimes, @NBCNews, @ABC, @CBS, @CNN) is not my enemy, it is the enemy of the American People!
— Donald J. Trump (@realDonaldTrump) February 17, 2017

That's right, patriots. Those reporters going through statements and documents, chasing down multiple sources before presenting a painfully objective picture of what your government is up to are your enemies.
By definition, "[The enemies] threaten you. They mean you ill."
The institution that the man who wrote the Declaration of Independence called "the only security of all" has been declared your enemy.

And, being good patriots, you know what you have to do when threatened by an enemy, right?

This will end very badly.
The last conservative with guts enough to stand up to Trump is our own Senator John McCain: 'That's how dictators get started': McCain criticizes Trump for calling media 'the enemy'. Here are snippets from the Washington Post story.
Sen. John McCain spoke out Saturday in defense of the free press after President Trump lashed out against the news media several times over the past week, at one point declaring it "the enemy of the American People!"

Such talk, McCain (R-Ariz.) said on NBC News in an interview set to air Sunday, was "how dictators get started."

"In other words, a consolidation of power," McCain told "Meet the Press" host Chuck Todd from Munich. "When you look at history, the first thing that dictators do is shut down the press. And I'm not saying that President Trump is trying to be a dictator. I'm just saying we need to learn the lessons of history."

In the "Meet the Press" interview, McCain told Todd that a free press was central to a functional democracy, even if news organizations' stories challenged those being held accountable.

"I hate the press. I hate you, especially," he said to Todd, who laughed. "But the fact is, we need you. We need a free press. We must have it. It's vital."
Then McCain got serious again.
"If you want to preserve democracy as we know it, you have to have a free and, many times, adversarial press," McCain added. "And without it, I am afraid that we would lose so much of our individual liberties over time. That's how dictators get started."

These days, it is difficult not to notice McCain, whose dissenting voice can be heard — and is often amplified — criticizing Trump. In the four weeks since Trump's inauguration, McCain has made headlines rebutting White House press secretary Sean Spicer and ripping Trump's worldview in a speech in Munich without ever mentioning the president's name.

This week, McCain appears on the cover of the Feb. 20 issue of New York magazine, where he candidly discusses operating in the Trump administration in a nearly 5,000-word profile by Gabriel Sherman, the magazine's national affairs editor

In the wide-ranging profile, which covers everything from Supreme Court justice nominee Neil Gorsuch to Trump's poll numbers, McCain also defends the news media in relation to leaks that have come from the Trump administration.

"In democracies, information should be provided to the American people," McCain told Sherman. "How else are the American people going to be informed?"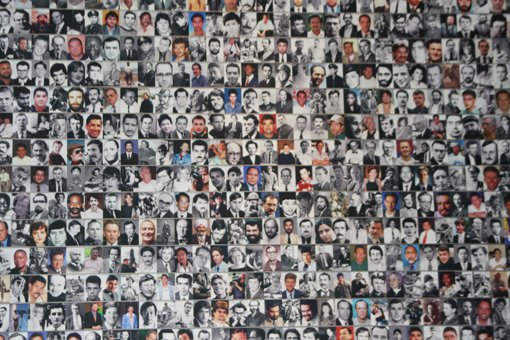 In the backlash to [Trump's] tweet, #NotTheEnemy began trending, with people sharing stories about journalists who had dedicated their lives to — and, in some instances, paid the ultimate price for — reporting the news.
2,291 journalists killed while doing their job are memorialized at the Newseum.
Here, from Daily Kos' It Begins is the view of Thomas Jefferson on Trump without newspapers vs. newspapers without Trump.
"The basis of our governments being the opinion of the people, the very first object should be to keep that right; and were it left to me to decide whether we should have a government without newspapers or newspapers without a government, I should not hesitate a moment to prefer the latter. But I should mean that every man should receive those papers and be capable of reading them." –Thomas Jefferson to Edward Carrington, 1787 …
A free press is not the enemy of the people, but it is the enemy of dictators. So is a universal public education. The press provides Jefferson's newspapers and public education provides for an informed citizenry capable of reading them.