Perhaps he deserved the recognition for his treatment of our closest allies. Here's an insider report from Ian Bremmer that Trump tossed candy to Merkel at G–7, said 'don't say I never give you anything'.
President Trump reportedly tossed Starburst candies to German Chancellor Angela Merkel during his tense meeting with Group of Seven (G–7) leaders weeks ago, Eurasia Group President Ian Bremmer said Wednesday.

While appearing on CBS News, Bremmer painted a grim picture of Trump and Merkel's relationship amid heightened conflict between the president and other G–7 members over his steep steel and aluminum tariffs and suggestion that Russia be reinstated into the group.

Bremmer went on to describe a bizarre incident toward the end of the summit, when Merkel and Canadian Prime Minister Justin Trudeau joined some of other the allies "to press Trump directly to sign the [group] communique that talked about the commitment to a rules-based international order."

"Trump was sitting there with his arms crossed, clearly not liking the fact that they were ganging up on him," Bremmer said to the news outlet. "He eventually agreed and said OK, he'll sign it. And at that point, he stood up, put his hand in his pocket, his suit jacket pocket, and he took two Starburst candies out, threw them on the table and said to Merkel, 'Here, Angela. Don't say I never give you anything.' "

"The relationship is about as dysfunctional as we've seen between America and its major allies since the trans-Atlantic relationship really started after World War II," Bremmer continued.

Shortly after the summit, Trump refused to endorse the joint communique signed by the other G–7 members, rebuking Trudeau and threatening to impose further tariffs on the country. The president also earned a rebuttal from Merkel on Tuesday after he criticized her country's immigration system, falsely claiming crime in her country was on the rise.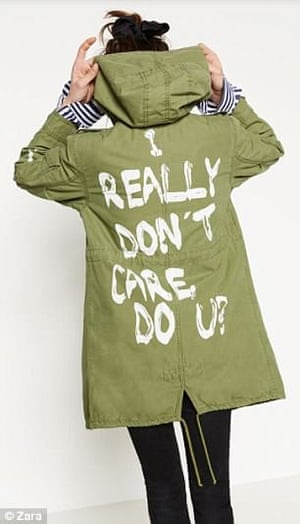 The Guardian reports that Melania Trump wears 'I don't care' jacket on way to child detention center.
When Melania Trump met with detained children at the Texas border on Thursday, she struck a compassionate tone, asking staff at the facility: "How I can help … these children to reunite with their families as quickly as possible?"

Earlier in the day, though, the first lady's attire sent a different message. As she boarded a plane to Texas, she appeared to be wearing a Zara jacket with the astonishing caption: "I really don't care. Do U?"

Photos taken as she boarded the plane at Andrews airbase didn't capture the jacket's full text, but it seems to be the same as the one that costs $39 and is available from the Zara website [pictured here].

According to a pool report, Trump's communications director Stephanie Grisham told a reporter via email: "It's a jacket. There was no hidden message. After today's important visit to Texas, I hope the media isn't going to choose to focus on her wardrobe."
Of course not. We would not be so petty. But we would, like others, try to understand the message and the motive.
And about her helping "these children to reunite with their families"? Perhaps she has not heard the news. The children get handed off to the HHS after interception by the border patrol. And the HHS, evening reports say, has no clue at all about how to match up the kids with their parents. They are shipped to detention centers all over the U. S. with no trail of any sort - paper or electronic - that would enable a match. The head of HHS says there is no problem. Here is the video from last night's Rachel Maddow show.