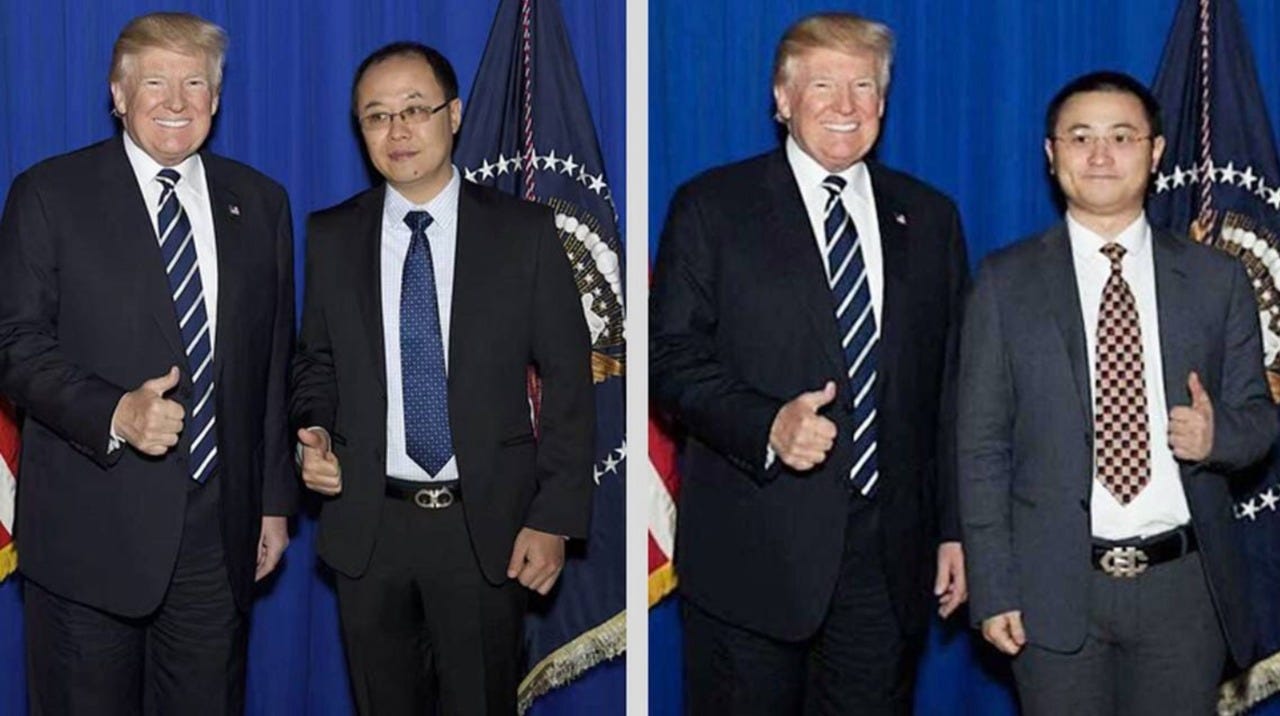 Trump is Trumpeting his exoneration by AG Barr's incomplete report on Mueller's investigation. But there are many other law suits and investigations underway at both federal and state levels. Here's another.
In A $50,000 photo with Trump, Judd Legum (popular.info) follows the money from Chinese to Mar-a-Lago.
Why we get from this pricey pair of photos …
One of the biggest rackets in politics is selling access to candidates at high-dollar fundraisers. For many people, however, meeting the candidate isn't enough. They want to be able to leverage the meeting as proof of their power and connections. So campaigns started selling "photo opportunities."

It's an unseemly but perfectly legal practice used by politicians on both sides of the aisle.

But a pair of photos with Trump at a December 2017 fundraiser, which required a $50,000 donation each, hints at a much deeper scandal. Trump appears in the photos with two Chinese-born tech moguls, Ryan Xu and Lucas Lu.
… to a conclusion about another potential Trumpian pay-for-play scandal - The Chinese government connection.
Xu and Lu were brought to the event by Li "Cindy" Yang, who gained notoriety as the former owner of a massage parlor that sold sex to powerful men, including New England Patriots owner Bob Kraft. Yang, who has become a fixture at Republican political events in recent years, snapped a selfie with Trump at his Super Bowl watch party in Mar-a-Lago in February.

Why did Yang, who does not seem to have been involved in politics at all until 2015, suddenly emerge as a prominent Republican fundraiser?

We don't know for sure. But Yang is "an officer of two groups with ties to China's Communist government," according to a report by Mother Jones. The groups are "the Florida branch of the Council for the Promotion of the Peaceful Reunification of China (CPPRC) and the Miami chapter of the American arm of the Chinese Association of Science and Technology."

This suggests that, if Yang's activities were not directed by the Chinese government, Chinese intelligence would at least have been aware of her high-level contacts with Trump, his administration, and his family.

Yang's actions do not just represent possible campaign finance violations but also an espionage and blackmail risk. Top Congressional Democrats have written a letter to the FBI, asking the bureau to open a counterintelligence investigation into Yang and her companies. Democrats also asked the FBI to investigate whether any other foreign governments are using access to Trump at Mar-a-Lago and elsewhere for intelligence operations.
Check out Legum's reporting for more details about Yang and her company.