The short story:Gallego declines to run for Arizona Senate seat reports Jonathan Cooper at the Arizona Capitol Times.
Congressman Ruben Gallego says he won't run for the U.S. Senate, likely avoiding a contentious fight for the Democratic nomination to finish John McCain's last term.

Gallego told The Arizona Republic Monday that it's not in the best interests of the state or the Democratic Party for him to engage in a bitter primary fight with retired astronaut Mark Kelly.

Gallego is well-connected to the liberal base of the Democratic Party. Kelly jumped into the race last month and has signaled he'll run a centrist campaign like the one waged in 2018 by his fellow Democrat Kyrsten Sinema.

The Arizona race is expected to be one of the top Senate contests in the country. Republican Sen. Martha McSally was appointed to the seat and is looking to keep it.
The longer story was reported by Politico (among several others) in Democrats could dodge messy Arizona primary after Gallego passes on Senate bid. Here is some of Gallego's reasoning.
Gallego told reporters Monday he had seen recent polling showing that his path to victory in the primary was to run a negative campaign, which would have been a "bitter, bitter primary" and would have hurt Democrats' chances to win the seat. The primary is in late August 2020, making it difficult for candidates in competitive intraparty fights to pivot to a competitive general election. McSally struggled to gain ground after her GOP primary last year, and Democrats were eager to avoid a similar situation.

"Republicans want a bitter primary between Democrats so they can hold this seat, and if they want that they're going to have to find another race," Gallego said. "I'm not going to be part of their tool."
Unless there is another power-house politician out there willing to be such a tool, Mark Kelly appears to be the candidate to take on McSally. He has Scriber's endorsement.
The loyal handmaiden
Jim Nintzel (Tucson Weekly), responding to Kelly's February announcement, provided more reasons why Kelly is an excellent candidate to take on McSally: Here's Why Democrat Mark Kelly Could Knock Appointed Sen. Martha McSally out of Her Orbit.
Kelly's entry into the race is McSally's worst nightmare. She's already lost one Senate race and only has her seat because she cooked up an insurance plan with Jon Kyl and Gov. Doug Ducey. Kyl, who took a break from his lobbying career to accept an appointment to the late Sen. John McCain's seat, stepped down at the end of last year so McSally could have a consolation prize after falling to Democrat Kyrsten Sinema.

Team Kelly knows McSally inside and out. Many of his most trusted advisors are veterans of campaigns run by Giffords and Ron Barber, the former congressman who won the seat Giffords gave up in 2012 to focus on her recovery. Barber narrowly won a race against McSally in 2012 and lost one to her by a mere 167 votes in 2014.

McSally lost her Senate race because she went from Trump skeptic to Trump true believer in 2018. She hasn't veered from that course, remaining a loyal foot soldier to Trump from her Senate perch. For example, while a handful of Republicans (including newly elected Utah Sen. Mitt Romney) voted alongside Democrats to end the government shutdown last month, McSally remained a team player, voting only for the GOP plan.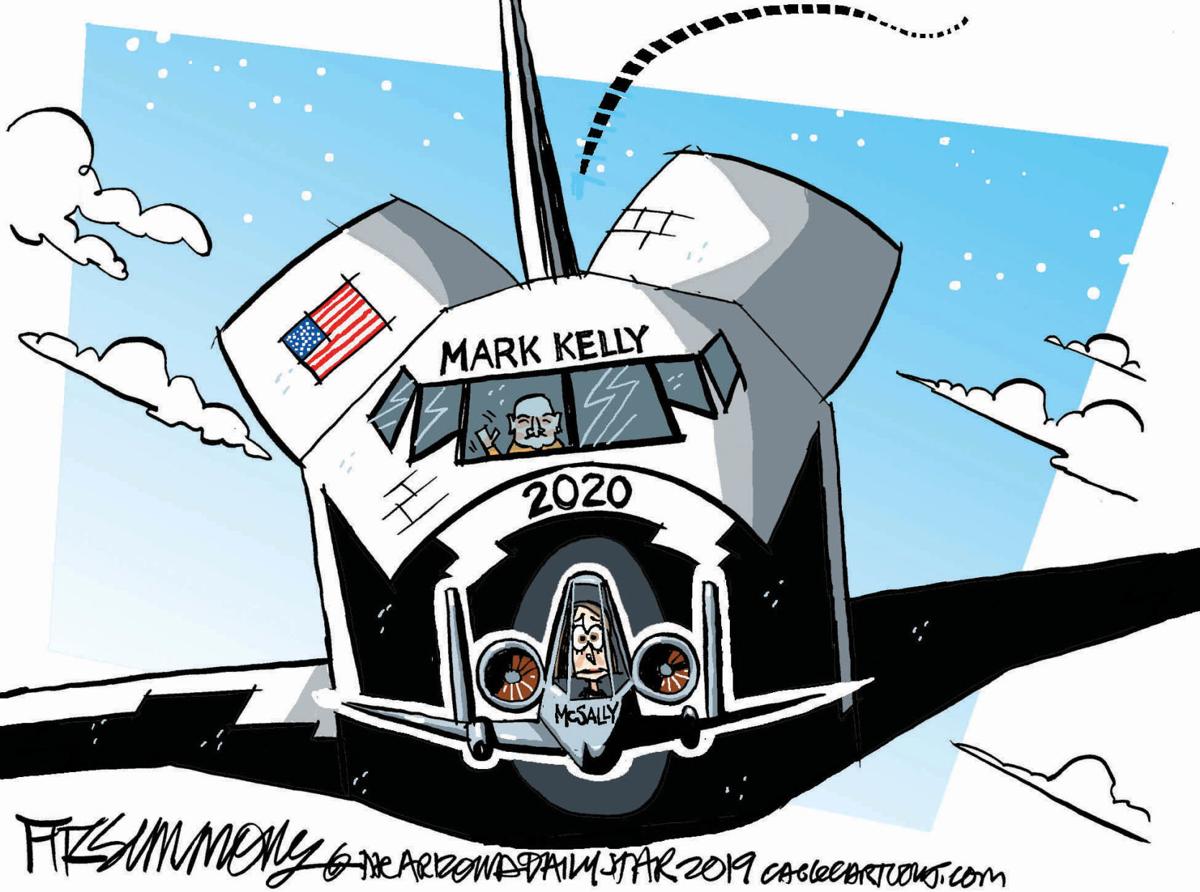 At this point, it's gonna be hard for McSally to break up with Trump, who will remain at the top of the ticket in 2020. But even if she remains his loyal handmaiden, she's still got problems with the Arizona Republican Party, which is now under the control of one of her political rivals, Kelli Ward, who lost to McSally in the 2018 GOP primary for Senate. And despite McSally's allegiance to Trump, it's entirely possible that she'll have a primary challenge because many conservative Republicans still think she's too lib.
Finally, for now, here is David Fitzsimmons' take on the Kelly-McSally square-off.