I have my two words in mind. What are yours?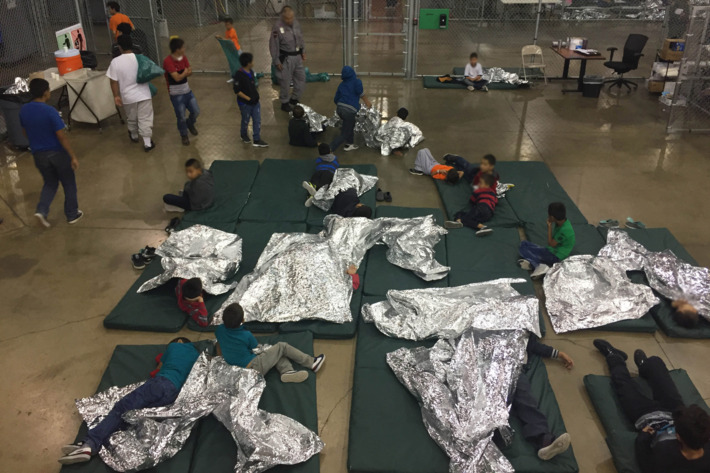 "The Salt Lake City Tribune published an editorial opinion on Sunday which should be reprinted in the editorial pages of every newspaper in the country" writes the AZ Blue Meanie (Blog for Arizona). He cited evidence from that editorial, The Salt Lake City Tribune: 'Yes, we do have concentration camps'.
They are not work camps. They are not death camps. At least, not on purpose. Our government is not building massive gas chambers and industrial crematoria. It is not conducting sick medical experiments on members of an unfavored class.

But that does not mean that the places into which we are herding tens of thousands of migrants, refugees and asylum-seekers are not properly called concentration camps. Because that is precisely what they are.
The New YorkTimes' Charles M. Blow concurs and writes about Trump's 'Concentration Camps', saying that The cruelty of immigrant family separations must not be tolerated.
… last week, an attorney for the Trump administration argued before an incredulous panel of judges on the Ninth Circuit that toothbrushes, soap and appropriate sleeping arrangements were not necessary for the government to meet its requirement to keep migrant children in "safe and sanitary" conditions.

As one of the judges asked the attorney:

"Are you arguing seriously that you do not read the agreement as requiring you do something other than what I described: Cold all night long. Lights on all night long. Sleep on the concrete floor and you get an aluminum blanket?"

Stop and think about that. Not only do these children in question not have beds, they are not even turning off the lights so that they can go to sleep. Sleep deprivation is a form of torture, plain and simple.
It gets worse. For example:
An Associated Press report last week discussed the descriptions by lawyers of "inadequate food, water and sanitation for the 250 infants, children and teens" at a Texas border patrol station.

Three girls told attorneys they were trying to take care of the 2-year-old boy, who had wet his pants and had no diaper and was wearing a mucus-smeared shirt when the legal team encountered him."

"A 14-year-old girl from Guatemala said she had been holding two little girls in her lap. 'I need comfort, too. I am bigger than they are, but I am a child, too,' she said."

Anyone whose heart doesn't break upon reading that is a monster. And yet, too many Americans seem perfectly O.K. with these conditions. Last year, Fox News's Laura Ingraham compared child detention centers to "summer camps." These are not summer camps. They are closer to what Representative Alexandria Ocasio-Cortez called them: concentration camps.

She received quite a bit of blowback for that description, her critics complaining that the term was too closely tied to the ghastly horrors of the Holocaust.

Folks, we can use any form of fuzzy language we want, but the United States under Donald Trump is currently engaged in an unconscionable act. He promised to crack down on immigrants and yet under him immigrants seeking asylum have surged. And he is meeting the surge with indescribable cruelty.

Donald Trump is running concentration camps at the border. The question remains: what are we going to do about it?
The Times reports on a partial answer as Hundreds of Migrant Children Are Moved Out of an Overcrowded Border Station.
Hundreds of migrant children have been transferred out of a filthy Border Patrol station in Texas where they had been detained for weeks without access to soap, clean clothes or adequate food, the authorities confirmed on Monday, suggesting that worsening conditions and overcrowding inside federal border facilities may have reached a breaking point.

The move came days after a group of lawyers was given access to the station in Clint, Tex., about 20 miles southeast of El Paso, and said they saw children as young as 8 caring for infants, toddlers with no diapers, and children who said they were waking up at night because they were hungry.

Though the station had held a relatively small population of migrants, compared to the tens of thousands who have been crossing the border each month, the lawyers' accounts offered a rare view into a system that has largely been hidden from public view.
So one thing we can do is to shine light on the horrors promoted by Donald Trump.
The lawyers who visited the facility, first interviewed by The Associated Press and later by The New York Times, said that children lacked access to private bathrooms, soap, toothbrushes or toothpaste. Many were wearing the same dirty clothes that they had crossed the border in weeks earlier.
And those practices would have continued had there been no visit by those lawyers.
And that is why I nominate "concentration camps" as my two-word reason for replacing Trump and ridding ourselves of Trumpism.