Quote of the Day: "Madame Tussauds waxwork museum in Berlin threw its statue of Trump into a dumpster in preparation for a new president." - Reported by Heather Cox Richardson.
Denialism, Dishonesty, Deflection: The Final Days of the Trump Campaign Have It All writes Susan B. Glasser in the New Yorker. The President is ending his reëlection bid with scandals that call into question the legitimacy of next week's vote.
No one wants to admit it, but in Washington, D.C., the election might as well be over—except for the what-if-the-polls-are-wrong jitters, which are real and have been the stuff not just of nightmares but of all-day worrying since Donald Trump's 2016 upset. Still, there are post-election plans to be made, lobbying strategies to be gamed out, Cabinet positions to speculate about. The election forecasters at The Economist currently give Joe Biden a ninety-six-per-cent chance of winning the Electoral College. According to the political Web site FiveThirtyEight, the former Vice-President has an only slightly more circumspect eighty-nine-per-cent chance. The Cook Political Report has moved Texas into the tossup category—Texas, which has not gone Democratic since Jimmy Carter, in 1976. No wonder the rumors are rife about Biden's White House, about who will get what job and why. Will Susan Rice, a surprise finalist for Vice-President, be tapped as Secretary of State? Is Ron Klain a lock for White House chief of staff? On Thursday, House Speaker Nancy Pelosi said she was "very confident" that Biden will win, and spent her weekly press conference outlining her governing agenda for the new Administration, from instituting green infrastructure policies to lowering the cost of prescription drugs. …

What if the polls are right—and Trump still wins? The election may be over, but the counting is not. His path to victory through the Electoral College may rest with only a few states where Election Night results are ambiguous enough that Trump could question them and, instead, pursue a win via friendly Republican state legislatures and the pro-Trump Supreme Court. Trump has already spent months laying the groundwork for this, preëmptively attacking the "rigged" election, baselessly suggesting widespread voter fraud in the use of mail-in ballots, and authorizing lawsuits to push for as many restrictive conditions on voting as possible in key states. An American President attacking American democracy in advance of an election has simply never been seen before. But he continues to do it every day, in the final run-up to November 3rd. Whatever the election's outcome, this is already one of the greatest political scandals of our time, and a lasting blot on Trump's record.

In many ways, the whole Trump Presidency can be encapsulated in the past few days and weeks. It is self-dealing, denialism, dishonesty, and deflection. It is narcissism, recklessness, and disregard for the public good—and for democracy itself. There is nothing and no one he has not corrupted—or tried to. Even the remaining uncertainty about the election's outcome is a product of Trump's cynical, self-serving, and dangerous assault on the political system. Washington can read the polls, but after four years there's still no poll that can fully account for this President. Folks, it ain't over till it's over.
Writing in the October 30, 2020 edition of Letters from An America, Heather Cox Richardson describes some ways that Trump and his sycophants plan to game the system and steal the election.
The polls at the popular political website FiveThirtyEight favor Democratic candidates Joe Biden and Kamala Harris, but Trump and Vice President Mike Pence are not out of the running. Every poll shows Biden far ahead of Trump in the popular vote, but because of our Electoral College system, the president could still win reelection. Virtually no one is suggesting that Trump could win the popular vote, and his campaign's plan is simply to get enough Democratic votes thrown out in swing states that he can win those electoral votes and clinch the election. Never before in our history has a candidate openly planned to win an election by gaming the system, but here we are.
The motivation for such games is clear:
Some stories from the past are continuing despite the election. Senate Majority Leader Mitch McConnell said today he would not take up a coronavirus relief bill until January. He also told conservative radio host Hugh Hewitt that he had every intention of continuing to confirm judges, despite the Senate's traditional practice of stopping judicial confirmations at some point during an election year. "We're going to run through the tape. We go through the end of the year, and so does the President," he said. "We're going to fill the 7th Circuit. And I'm hoping we have time to fill the 1st Circuit as well." "We're going to clean the plate, clean all the district judges off as well," …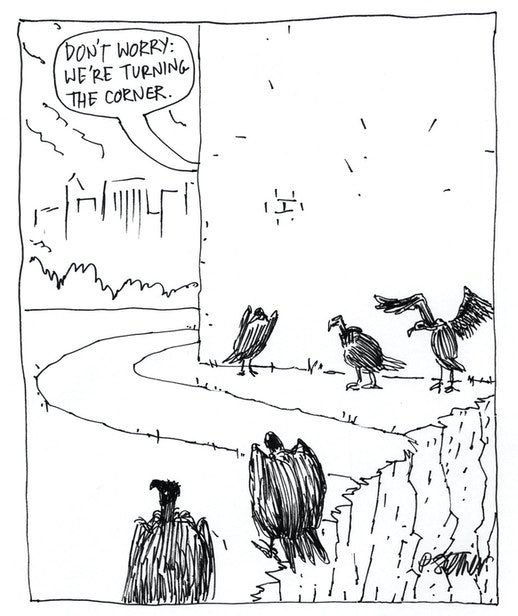 For all of the attention on the election, the top story remains the coronavirus, which is infecting Americans and killing us at an alarming rate. Today we broke a terrifying record: the U.S. had more than 100,000 new infections. In all but a handful of states, the virus is spreading unchecked. A scathing new report from a congressional panel chaired by Jim Clyburn (D-SC) calls the administration's response to the pandemic "among the worst failures of leadership in American history."
As Glasser noted, "There is nothing and no one he has not corrupted—or tried to. " Now he's after the medical personnel who risk everything in performance of attempts to save lives.
The coronavirus story is also the story of the election, as Trump and his supporters insist those eager to combat the pandemic are simply trying to hurt the president. Trump complains bitterly of the attention media is giving to "covid, covid, covid," and today told people attending his rally in Michigan that doctors are exaggerating the threat of coronavirus because they get paid more if a cause of death is listed as Covid–19. The American Medical Association released a statement saying "The suggestion is a… malicious, outrageous, and completely misguided charge." It pointed out that doctors, nurses, and healthcare workers are risking their lives daily to try to defeat the virus.

And after all these stories from the past, a story from the future: today Madame Tussauds waxwork museum in Berlin threw its statue of Trump into a dumpster in preparation for a new president.