Our Editor-at-Large Sherry found this one: Trump Team Holds News Conference Outside Drab Landscaping Firm, Next to Adult Book Store reports Slate.com. Following are four related topics.

(1) Donald J. Trump
@realDonaldTrump
Big press conference today in Philadelphia at Four Seasons Total Landscaping — 11:30am!
This was NOT the Four Seasons Philadelphia!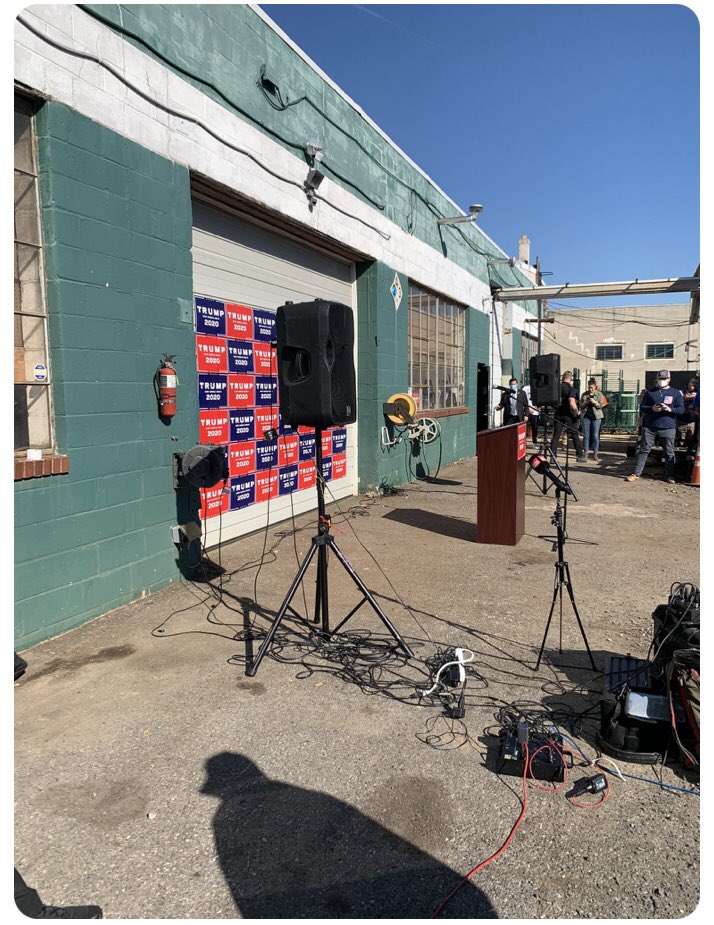 Seedy. This is a far cry from the 2015 Gold Escalator ride that launched Trump and Trumpism.
(2) When journalists arrived at the site of the news conference, they were flabbergasted by the scene and many quickly speculated that someone in the Trump campaign made a serious mistake. After all, the parking lot of a landscaping business in the outskirts of the city in an industrial part of town was a drab backdrop for a news conference by a president who wanted to convince Americans he still had a chance of winning. And making matters even stranger, the landscaping business was between an adult bookstore and a cremation center. The location led to lots of mockery online, and many people were very happy with the scene that was ripe for mockery, and some saw as a poignant metaphor of the failure of the Trump campaign.

(3) At the news conference, Rudy Giuliani insisted that Trump was not going to concede the election and claimed without presenting any evidence that ballots had been tampered with in Pennsylvania. It seems Giuliani first heard that that the networks had called the election for Biden at the news conference, and he vowed that the campaign would file several lawsuits because Republican observers were not allowed to inspect ballots. "Seems to me somebody from the Democratic National Committee sent out a note that said don't let the Republicans look at those mail-in ballots," Giuliani said without any evidence.
These images tell the story of Trump's journey from payola for porn to a campaign that crashed and burned.
So what happened?
(4) [No, not that Four Seasons. How Team Trump's news conference ended up at a Northeast Philly landscaping firm.][inq] reports the Philadelphia Inquirer.

What began five years ago with the made-for-TV announcement of Donald Trump's presidential ambitions from the escalator of his ritzy Manhattan high-rise, ended Saturday with his aging lawyer shouting conspiracy theories and vowing lawsuits in a Northeast Philadelphia parking lot, near a sex shop and a crematorium.

In hindsight, the hastily arranged news conference featuring Rudy Giuliani, the president's personal lawyer, just minutes after Joe Biden had been declared the victor of the 2020 race, delivered a fitting end to a campaign that had been at times characterized by its slapdash techniques.

But the story of how a landscaping company in Holmesburg became the backdrop for what could have been one of the Trump team's last public gasps in its bid to reverse the results quickly captured the public's imagination.

It started Saturday morning, with a presidential tweet that, as has often happened during the last four years, Trump's advisers quickly scrambled to correct.

Trump announced: "Lawyers News Conference Four Seasons, Philadelphia, 11 a.m.," only to delete his post minutes later and replace it with one changing the venue from the upscale Center City hotel to a similarly named business: Four Seasons Total Landscaping on industrial State Road, next to Fantasy Island Adult Books and Novelties and across the street from the Delaware Valley Cremation Center.

"To clarify, President Trump's news conference will NOT be held at Four Seasons Hotel Philadelphia," the hotel's management tweeted out minutes later. "It will be held at Four Seasons Total Landscaping — no relation with the hotel."

But by then, many on social media were already delighting in a booking they assumed must have been a mistake.
I'll let one such source of delight have the last word.